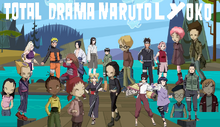 Total Drama Island, is the first season of Total Drama Naruto Lyoko. The season originally starts with twenty-two contestants who arrive at Camp Wawanakwa and are divided into two teams; the Screaming Gophers and the Killer Bass. The contestants clash, each half knowing each other prior to the show and having pre-existing interactions, and in the season's second episode, a twenty-third contestant, Mayu, arrives to the island late and joins the cast. The competition lasts for twenty-five episodes, until only two campers are left standing, resulting in the final challenge where one contestant wins the season and the hundred thousand dollars.
Eliminations
Edit
Main article: Total Drama Naruto Lyoko Season One Elimination Table
Every episode the team that loses the most recent challenge, unless it is a reward challenge, has to vote off a fellow teammate and participate in the elimination ceremony. In said ceremony, while the safe campers receive a marshmallow, the camper with the most votes is eliminated and is forced to walk down the Dock of Shame and board the Boat of Losers. This formula is shifted somewhat once the merge begins where only the challenge winner may receive immunity.
Characters
Edit
Twenty-two contestants, plus the host, Beast Boy, and Jim, the camp's cook and the co-host of the show.